History of Blue Star Mothers of America, Inc
The Blue Star Mothers of America, Inc was founded as a Veteran Service Organization and was part of a movement to provide care packages to military member's serving overseas and also provided assistance to families who encountered hardships as a result of their son or husband serving in the war.
In 1960 Congress chartered the Blue Star Mothers of America as a Veterans Service Organization and in 1966, the Department of Defense revised the specifications for design, manufacture and display of the Service Flag.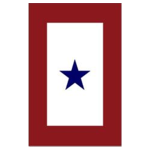 The Department of Defense specifies that family members authorized to display the flag include the wife, husband, mother, father, stepmother or father, parent through adoption, foster parents who stand or stood loco parentis, children, stepchildren, children through adoption, brothers, sisters and half brothers or sisters of a member of the Armed Forces of the United States.
Each blue star on the flag represents a service member in active duty.
Our Fredericksburg VA4 Chapter
Our chapter was established in February 2009 and our membership continues to grow in friendship and support for our military members and for each other.
We are a non-profit 501-C3 veterans service organization which covers the Fredericksburg and surrounding areas. Several of our members live in the nearby areas some are south of Spotsylvania to Louisa, east of King George to Colonial Beach, west of Remington to Warrenton and parts of Stafford county. All are invited to our meetings and we welcome you to join us.
Blue Star Mothers of Fredericksburg is a chartered chapter under Blue Star Mothers of America, Inc., a 501 (c)(3) nonprofit organization Established 1942, Chartered by Congress 1960. The National website is: http://www.bluestarmothers.org
Thanks for visiting our website. Check out our Projects. To get more information or if you have specific questions about our chapter please Contact Us.
Blue Star Mothers of Fredericksburg

Meets:
Third Saturday of each month

Location:

Salem Church Library

2607 Salem Church Road, Fredericksburg, VA

Time:

10:00 AM-12:00PM

For Directions to our meeting location click on the directions link for marker in the map below.

View Larger Map